When Federation Square opened in 2002 to commemorate 100 years of federation, it divided Melburnians. There were those who loved it and those who hated it. Either way, it has become an integral part of the city and a great place for tourists to start their sightseeing. Located opposite Flinders Street Station, a major public transport hub, the building's ultra-modern design of open and closed spaces contrasts with the surrounding Victorian architecture. With more than 2,000 events annually, you can always find entertainment in the central outdoor performance space and intimate indoor venues. Federation Square also houses the Ian Potter Centre: NGV Australia, dedicated to Australian art, and the Australian Centre for the Moving Image (ACMI). More commonly called "Fed Square," it is also one of the largest free Wi-Fi sites in Australia.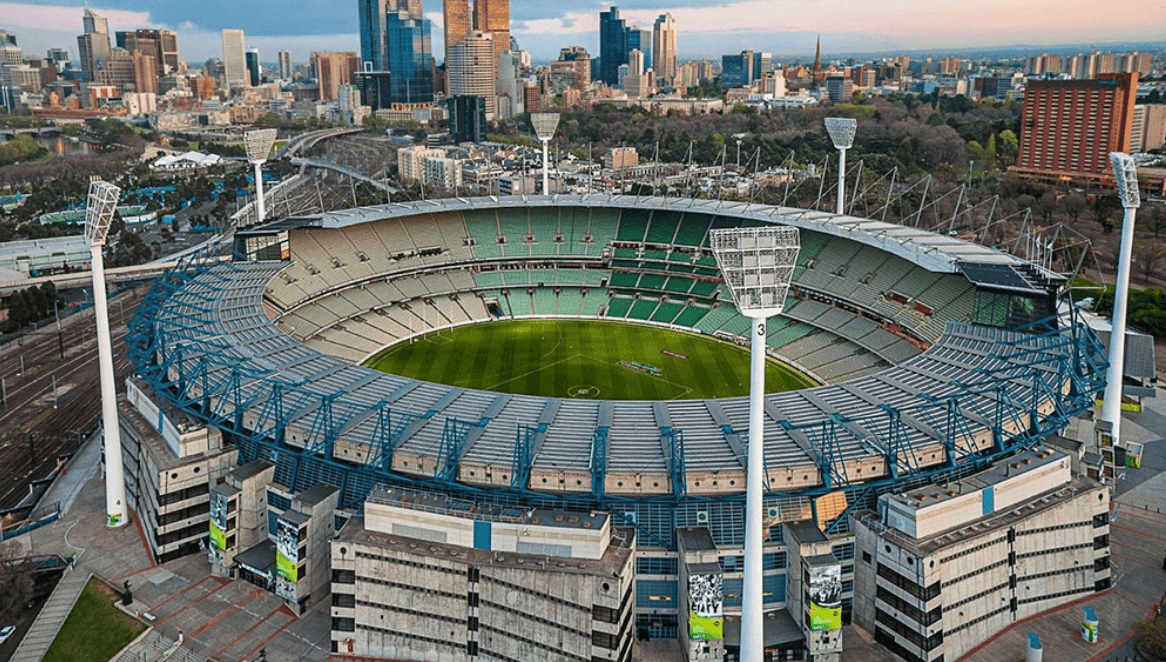 The MCG is more than just a sports venue. It's a place where memories are made and childhood dreams come alive. There are fleeting moments at the 'G that stay with you forever.
Ask any Victorian and they'll be aware of the Melbourne Cricket Ground's status as the home of sport.
But it is also steeped in a rich history; established in 1853, less than 20 years after the founding of Melbourne, it is often described as the beating heart of this fantastic city.
It has been the home of Australian football since 1859, and was the birthplace of Test cricket in 1877 and one-day international cricket in 1971.
It was the main stadium for the 1956 Olympic Games and 2006 Commonwealth Games, attracts up to 100,000 fans to the annual AFL Grand Final and the 'G comes to life each Christmas at the Boxing Day Test.
Other sporting spectacles to have been held there include World Cup soccer qualifiers, rugby league home and away matches and State of Origin, international rugby union and Austral Wheel Races.
But the 'G, as it is affectionately known to locals, is so much more than Australia's biggest sporting stadium. It has hosted Papal and Royal visits and housed US Marines, the US Army airforces and our own RAAF during World War II. It has also been a concert venue for international and local performers, held open days, charity events, dinners and many more.
Nestled in Yarra Park, about a 10-minute walk from the heart of the city, the MCG is open every day of the year for events and functions and tourists and the general public alike can visit seven days a week.
Hosier Lane is Melbourne's most iconic Street Art lane way and is one of the main tourist attractions in Melbourne.
Melbourne is known as one of the world's great street art capitals for its unique expressions of art on approved outdoor locations. Street art includes stencils, paste-ups and murals and does not include graffiti or tagging which is illegal.
To see some of the city's best street art, head to Hosier and Rutledge Lane, opposite Federation Square.
Located in the heart of Melbourne, Marvel Stadium has welcomed more than 35 million fans through the gates since opening in 2000.
Renowned for regularly staging AFL, A-League and BBL action under the famous retractable roof, Marvel Stadium has also hosted some of the biggest international sporting events such as UFC193, Soccer World Cup Qualifiers and International Rugby Union tests.
Throughout its years, Marvel Stadium has hosted many memorable concerts for some of the world's biggest stars including Taylor Swift, Foo Fighters, Justin Timberlake, AC/DC, Bon Jovi, Andre Rieu and Eminem.
The railway station sits on the edge of Flinders and Swanston Streets and is serviced by the entire metropolitan rail network, seeing thousands of commuters and travellers pass through its doors every single day.
At its rear, you'll find the Yarra River, which weaves its way through the city centre and provides a picturesque backdrop to the surrounding scenery. Sprawling out over two whole city blocks, Flinders Street Station is a popular attraction for visitors as well as a popular meeting point for locals.
It is also the oldest train station in the whole of Australia, showcasing a historic design with a yellow façade and a green copper dome which can be seen throughout the city. Inside, stalls serving hot food and cold drinks line the concourse, while the upper floors were created specially to house a gym, library, and a lecture hall which was later used as a ballroom.
As the busiest suburban railway station in the southern hemisphere, it sees more than 1500 trains and 110,000 commuters every day. It is now listed on the Victorian Heritage Register, thanks to its 708m main platform, which is the fourth longest in the world.
The Young and Jackson Hotel, built in the 1850s, is one of Australia's most well known hotels. It was built, as the Princes Bridge Hotel, on part of an allotment originally purchased by John Batman in 1837.
Young and Jackson were both born in Dublin, and "chummed together" to New Zealand chasing the Otago gold deposits in 1861. It is not known when they came to Victoria, but they purchased the lease on the Princes Bridge Hotel in 1875.
The Young and Jackson Hotel, not withstanding its position on Melbourne's most prominent intersection, is best known for the infamous Chloe painting, painted by Jules Lefebvre in 1875, which received the gold medal at the Great International Exhibition in Melbourne in 1881. The painting caused an uproar when, as recorded by letters published in the Argus, the National Gallery exhibited the painting on Sundays. The Young and Jackson Hotel purchased Chloe in 1908, hanging the painting in the saloon bar.
Royal Botanic Gardens Victoria are botanic gardens across two sites - Melbourne and Cranbourne. Melbourne Gardens was founded in 1846 when land was reserved on the south side of the Yarra River for a new botanic garden. It extends across 38 hectares that slope to the river with trees, garden beds, lakes and lawns.
The Children's Garden is one of the most popular attractions of the gardens, attracting over 150,000 young visitors each year. Designed as an interactive educational environment, children of all ages and abilities can learn about the natural world as they play and explore.
Another highlight is the National Herbarium which houses a collection of approximately 1.5 million dried plant, algae and fungi specimens from all around the world.
Other attractions include Guilfoyle's Volcano, the Melbourne Observatory, the Tropical Glasshouse, Plant Craft Cottage and numerous lakes, islands, and sculptures dotted around the site.
Among the most cherished and beautiful gardens, Fitzroy Gardens is a historic place created in 1848 by the early settlers here in Melbourne. Spread over 65-acre, this Victorian-era garden is an amazing place to stroll around, sit and relax.
Weekends are the most amazing here, however, this outdoor market is a center of attraction throughout the week with a balance of food sellers and some daily utility object vendors making this place one of the most loved ones.
Federation Square came into existence in 2002 to celebrate 100 years of the federation but soon became one of the most cherished attractions for tourists. The open and closed spaces of the federation square building with the advanced design are in distinction with the surrounding Victorian architecture and house over 2000 events annually.
The most iconic street that augments to represent Melbourne as one of the world's great street art capitals for its exclusive expressions of art on permitted outdoor locations. Street art comprises paste-ups, stencils, and murals.
To make your visit to the beautiful capital of the state of Victoria awesome, explore these restaurants and other places of attractions a memorable one while you are in Melbourne:
Melbourne Restaurants
Breweries & Distilleries
Bars
Luna Park
Scienceworks
ACMI
Healesville Sanctuary
Melbourne in 1956,
The 1956 Summer Olympics, officially known as the Games of the XVI Olympiad, was an international multi-sport event that was held in Melbourne, Victoria, Australia from 22 November to 8 December 1956,